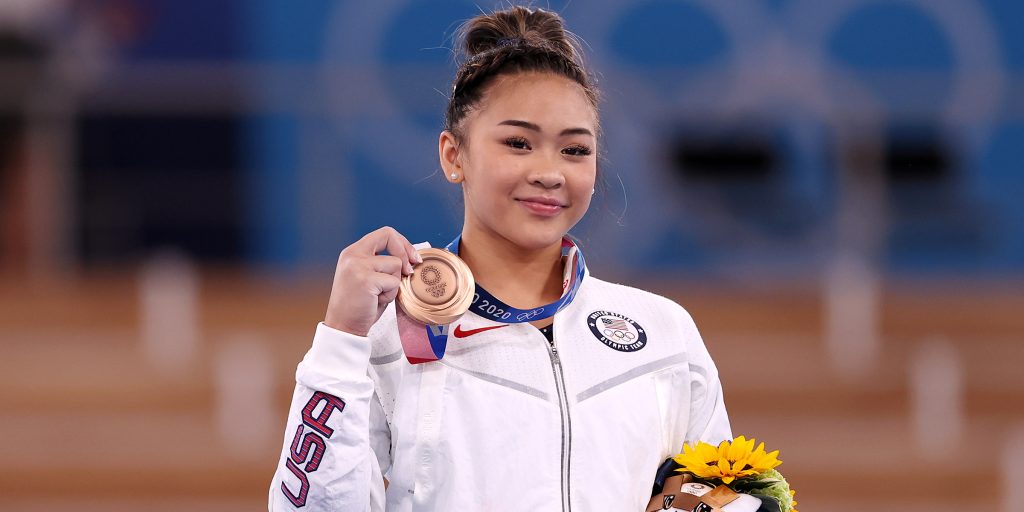 Sunisa Lee: The Hmong American Who Conquered the World
Sunisa Lee, a name that has transcended the world of gymnastics and become synonymous with greatness, made history in 2020 by clinching the Olympic all-around gold medal. Her captivating performances were a sight to behold, leaving spectators in awe and admiration.
Born and raised in Saint Paul, Minnesota, Lee's parents emigrated from Laos to the United States, and she grew up in a tight-knit Hmong-American community. Lee is the youngest of six siblings and had her family's unwavering support in her gymnastics journey. Her father, in particular, went above and beyond by constructing a balance beam and uneven bars in their backyard.
Lee's impressive gymnastics skills were apparent from a young age, as she started practicing at the tender age of six. She trained at the Midwest Gymnastics Center in Little Canada, Minnesota, under the tutelage of Jess Graba, her coach. Her meteoric rise in the sport was evident when she won the Junior National Championship in 2018 and subsequently made her senior debut, winning a silver medal in the all-around at the U.S. National Championships the following year.
However, Lee's career trajectory was interrupted when she sustained a foot injury in 2019. This setback forced her to take a break from the sport, but she returned stronger, clinching the all-around gold medal at the 2019 U.S. Gymnastics Championships and a bronze medal at the 2019 World Championships. Her crowning achievement came in 2020, where she made history by winning the Olympic all-around gold medal in Tokyo, cementing her place in the annals of gymnastics history.
Lee's accomplishments have not only earned her worldwide recognition but have also had a transformative effect on the Hmong American community. She has emerged as a beacon of hope and inspiration for many young Hmong girls, symbolizing the power of perseverance and resilience. Her Olympic triumph has brought attention to the Hmong community's culture and history, raising awareness and demolishing societal barriers.
As an Olympic champion and trailblazer, Lee has broken down barriers and demonstrated the importance of unwavering dedication and commitment to one's dreams. Her story serves as a testament to the power of perseverance, passion, and family support.
Lee's journey from practicing gymnastics in her backyard to becoming an Olympic champion exemplifies the epitome of perseverance, dedication, and hard work. Her impact on the sport of gymnastics is indelible, and her legacy will inspire generations to come. Meanwhile, her achievements have helped elevate the Hmong American community and serve as a shining beacon of hope for all those who dare to dream.